Trick or treat bag
This great trick or treat bag can be sewn together in a jiffy. The flat bag is easy to store from year to year and the cloth body is washable. It is a "treat" your child is sure to love!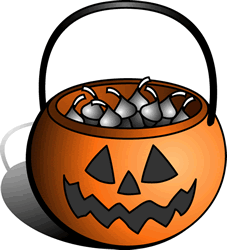 SUPPLIES:
Fabric 3/8 yard orange fabric (medium to heavy weight)
3/8 yard orange lining fabric
6" square black fabric
6" square green fabric
5/8 yard nylon handle strap
Thread: 1 spool each to match your fabric - 30 wt machine embroidery thread
orange
black
green
Notions
9" invisible zipper
6" square Wonder UnderTM or Stitch WitcheryTM
vanishing marking pen
walking foot
invisible zipper foot
INStrUCTIONS:
1. CUT pumpkin from orange fabric.
2. CUT face shapes, stem, and leaf from appropriate fabrics.
3. CUT the same shapes from Wonder UnderTM or Stitch WitcheryTM (use manufacturer's directions to apply). Press the face, stem, and leaf on as shown.
4. USE the vanishing marking pen to transfer design lines.
5. SATIN stitch face shapes to pumpkin; use black thread. Select the zigzag stitch.
width: 2.5-3.5
Length: .5 (test for density)
SATIN stitch around stem and leaf with green thread. Use same stitch settings to make vine "curls." Depending on fabric weight, a stabilizer under the fabric may be needed.
6. LAY the pumpkin (face up) on the fleece batting. Place lining fabric under batting. trim 1/2 of batting between lining and pumpkin body where the zipper will be applied to reduce bulk. Leave a one inch excess of batting and lining around the rest of the pumpkin.
7. THREAD machine with orange thread. Place walking foot on machine. Follow design line for a quilted effect. Quilt back of pumpkin in the same manner.
8. StrAIGHT stitch 1/4" from edge of pumpkin front and back and trim excess fleece and lining. SERGE the edges for a clean finish.
9. APPLY invisible zipper.
center zipper at the top of the pumpkin. OPEN zipper and lay (right sides together) onto the pumpkin back. The teeth will face away from the edge of the pumpkin. PLACE ridge of zipper in groove of invisible zipper foot. SEW. LINE up opposite side of zipper with front of pumpkin and assemble as the first side. Make sure zipper pulls easily after insertion. If an invisible zipper foot is not available for your machine, apply a regular zipper. Expose the teeth in the application.
10. MAKE loops for handle strap.
CUT orange fabric 1 1/4" wide x 6" long. FOLD long edges over 3/8", press. FOLD strip in half, line up folded edge and stitch along edge. CUT the strip in half. PIN folded strip in seam allowance on either side of the zipper ends. PLACE right sides of bag together. Use 3/8" to 1/2 seam allowance to enclose bag.
11 ATTACH handle strap.
Cut the strap on an appropriate length for the size of the child carrying the bag. Slide the ends through the loops. Fold ends under 1 1/2" and stitch across ends to secure.