Biodiesel Generators Backup Community
The city of Oak Ridge North, Texas is emerging as an alternative fuels pioneer. The two-square-mile city, along with Saferenewables, Texoga Technologies,BIOFUELS POWER CORP. (BPC), and HARC (Houston Advanced Research Center's Southwest Biofuels Initiative) is going green. The city will soon be the first in Texas to have it's own biodiesel-fueled electric generator. The planned launch date for the 5 Megawatt Generator is scheduled in the December 2006 / January 2007 time frame and will be powered by biodiesel locally produced by Safe-Fuels. The station-wagon sized generators are expected to produce enough power to supply 1,500 homes on constant basis. Before the generators can be placed online, they will have to be tested for emissions and other inspection processes.
Lower Emissions
Biodiesel is not produced from Fossil Fuel supplies such as gasoline and diesel you buy at the pumps today. Biodiesel is produced from products like soybean oil which can be used in foods as well as to fry them. Biodiesel, when refined from used fry grease, and used as fuel for engines, produces much less smog and smells like French fries.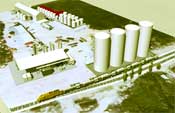 The biodiesel generator produces 90% less smoke, making it nearly emission free and will not reduce air quality. It burns cleaner than petroleum diesel, emits less cancer-causing carbon monoxide, and zero sulfur dioxide which contributes to acid rain. Power output from biodiesel is equivalent to petroleum diesel, and with a few additives, emissions are reduced.

According to Steve McGuire, CEO of Texoga Technologies, Biodiesel dates back to the turn of the century, when oil was discovered at Spindletop, Texas which is near to Beaumont, Texas the biodiesel industry was driven out of the country and into Europe where the cost per barrel of oil was higher. Today's diesel engines are fully capable of running on Biodiesel without any modifications; they can run on petroleum diesel one day and biodiesel the next.
Oak Ridge North, Texas
Oak Ridge North, Texas Mayor Fred O'Connor, who has an extensive background in the energy business along with other biodiesel projects in Costa Rica, Colombia and Nicaragua, was quoted as saying "These are small steps towards a larger goal towards creating fewer emissions." "Some people believe in global warming, some people don't.
I don't get into that argument. What I can argue for is cleaner air," he said. The generators are scheduled to be added to the Centerpoint Electric Grid and afterwards, should the grid go down, all of the homes on the grid would continue to have power until repairs were completed. The project is being funded by a $3.5 Million dollar investment from The Chicago Board of Trade and Safe-Fuels will provide fuel for the public works force at no charge, along with paying a fee for it's participation in the project.
Alternative Fuel Energy Source in Texas
The generators will consume about 400,000 gallons of biodiesel per month resulting in supplying power from products such as soybean oil, poultry fat, beef tallow, and cottonseed oil into the grid. Centerpoint is designing a distribution facility and related substations in order to implement the generators into the grid. According to a spokesperson from Centerpoint, this is the first agreement to be approved allowing a biodiesel powered generator into their electric grid. The Oak Ridge North community receives electric power from both Centerpoint and Entergy with a dividing line at Robinson Road. Entergy is aware of the agreement with Centerpoint and has stated that it will keeps it's options open regarding possible power generation. BIOFUELS POWER CORP. (BPC)is interested in providing power into both grids should an agreement be made with Entergy.