Biodiesel Production in the Houston Ship Channel
Green Earth Fuels of Houston, LLC, along with Kinder Morgan Liquids, is building a biodiesel plant in the Ship Channel area of Houston, Texas. More specifically, Galena Park, Texas, a suburb of the Houston Metropolitan area which includes the Houston Ship Channel. The biodiesel plant is scheduled to begin producing vegetable oil based biodiesel fuel in the summer of 2007 with an expected output of nearly 90 million gallons by the end of the year. The Galena Park Terminal is situated on the Houston Ship Channel and offers over 4 million barrels of storage capacity at the epicenter of Houston's petrochemical complex. Accomplishing this feat will propel it into the same arena encompassing the largest biofuel plants in North America.
Houston Fuel Refineries
Biodiesel is produced from some of the same feedstocks as are used for food by humans. Biodiesel is produced from products like soybean oil which can be used in foods as well as to fry them.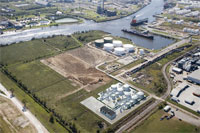 The Houston ship Channel facility may not yet be a physical landmark among the multitude of oil refineries and storage tanks but like the Galveston Biodiesel plant, it helps to paint an image of our future in green fuels. The future of alternative fuels is growing everyday but it will take more than a couple of processing plants to make renewable fuels an everyday occurrence. Among things like a $100,000 on-site testing lab, and close proximity to shipping channels, an extensive business model and strong financing are also required. Kinder Morgan owns and operates the Galena Park fuel-handling facility which contains terminals for many of the major oil companies. As a part of the agreement with Green Earth Fuels, Kinder Morgan is expected to invest up to $100 million in expansion to accommodate biodiesel in its Houston, New Orleans and New York terminal facilities.
Future Price of Feedstocks
Jeffrey Trucksess, Green Earth Fuels VP of Regulatory and Governmental Affairs has stated that the company has created long term, contractual agreements for the purchase of soybean oil and other biodiesel feedstocks. This pricing method would help to give them an edge over other biodiesel producers should the market price rise in the future. The company has future plans for additional plants and expects to use the Galena Park facility as a template for these additional plants.
EPA Regulations
According to the EPA (Environmental Protection Agency), Biofuel refiners will be required to use at least 7.5 billion gallons of renewable fuel in gasoline by 2012. In 2005, President Bush signed into the energy laws, a requirement that 4.02 percent of gasoline sold or dispensed in the US be renewable fuel by 2007. This equates to about 4.7 billion gallons, approximately one percent higher than the 2006 requirement. Also in 2005, the Supreme Court ruled that carbon dioxide and other greenhouse gases are air pollutants under the Clean Air Act which gives the EPA authority to regulate those emissions from new cars and trucks. While gasoline and Diesel are not the same fuels, biodiesel and ethanol are both made from similar feedstocks such as soybean oil, corn and vegetable oil which are also used for human consumption.