E85 Available at Texas Kroger Gas Stations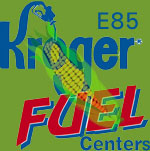 E85 is becoming available at varous Kroger fuel stations in the Dallas and Houston areas. Some Kroger stores in the Houston area are now able to offer Texas motorists the benefits of ethanol fuel, thanks to the installation of Dresser Wayne's VistaT 387 E85 fuel dispensers in the summer and fall of 2006. Kroger believes that drivers are becoming interested in alternative fuel options, and this trend will continue to grow as access to alternative fuel becomes more convenient and gasoline becomes more expensive. The Vista 387 E85 dispenser, built by 'Dresser Wayne' is the ethanol pump chosen by Kroger, making it possible to safely provide ethanol to the traveling public. Kroger operates more than 500 supermarket fueling stations nationwide, including more than 60 in Texas, all of which are located next to Kroger retail grocery stores. Kroger is expected to seek additional opportunities to offer E85 fuel both in Texas and throughout the nation. Kroger operates more than 700 convenience-store fueling sites nationwide. Wal-Mart and Sam's Club are also considering selling E85 across the nation.
Kroger, General Motors and Abengoa Bioenergy Combine to Support E85 in Texas
The collaboration is part of a GM campaign to boost the use and awareness of ethanol-based E85 fuel in the U.S. As part of the partnership, GM will promote the availability of the fuel with consumer and dealer outreach. The partnership is similar to those GM entered into with VeraSun Energy the Sioux Falls area and more recently in the Chicago and Minneapolis areas, as well as earlier this year in California with Chevron Technology Ventures and Pacific Ethanol.

GM also announced that it would extend its partnership with the Governors Ethanol Coalition (GEC) to provide new E85-capable vehicles for use in GEC member states. This collaborative effort, which was launched in early 2005, is designed to increase awareness of ethanol and flexible fuel vehicles, and to promote the increased use of E85 as a renewable, alternative transportation fuel that is able to meet the demands of today's drivers, GM said.
Texas Kroger E-85 Locations
Kroger # 374
8500 Hwy 6 N. @ West Rd.
Houston, Texas 77095
(281) 463-0071
Get Directions
Kroger # 577
7505 N. MacArthur Blvd.
Irving, Texas 75063
(972) 432-9288
Get Directions
Kroger #587
3939 Frankford Road @Midway
Dallas, Texas 75287
(972) 662-1000
Get Directions
Kroger #357
2224 I-45 @ Loop 336 N.
Conroe, Tx 77306
(936) 788-5270
Get Directions
Kroger #362
17455 Spring Cypress
Cypress, TX 77429
(281) 304-0810
Get Directions

Kroger # 366
12434 Tomball Parkway
Tomball, Tx 77086
(281) 272-0116
Get Directions

Kroger #460
4038 Old Denton Road
Carrollton, TX 75007
(972) 512-3355
Get Directions
Kroger #315
1705 Fry Road @ Park Row
Katy, TX 77449
(281) 398-2186
Get Directions
Kroger #389
6616 FM 1488 Road
Magnolia, TX 77354
(936) 271-3254
Get Directions
Kroger #343
8323 Broadway
Pearland, TX 77584
(281) 997-6183
Get Directions
Kroger #598
9732 Coit Road
Plano, TX 75025
(972) 377-7796
Get Directions

Kroger #252
11035 East Frwy.
Houston, Texas 77029
(713) 673-0049
Get Directions

Kroger #309
1805 S. Voss
Houston, Texas 77057
(713) 266-3818
Get Directions

Kroger # 367
3820 Atascocita Road
Humble, Texas 77396
(281) 812-2134
Get Directions
Kroger #461
5190 Hwy. 78 @ Murphy Rd
Sachse, Texas 75048
(972) 675-2111
Get Directions
22150 Westheimer Pkwy.
Katy, Tx 77450
281-828-8880
Get Directions
3845 Phelan
Beaumont, Texas 77707
409-833-3575

CALL FIRST!


Get Directions
8323 Broadway
Pearland, Texas 77584
803-732-0423
Get Directions
115 Dixie Dr.
Clute, Texas 77531
979-265-4737
Get Directions
1300 Fairmont Parkway
LaPorte, Texas 77571
281-842-1020
Get Directions
11565 Hwy. 6 S.
Sugarland, TX. 77478
281-340-1500
Get Directions
18518 Kuykendahl
Spring, TX 77379
281-350-3630
Get Directions
2750 E. League Parkway
League City, TX
Get Directions
14050 FM 2920
Tomball, TX. 77375
281-516-2184
Get Directions
Kroger E85 in Louisiana
Other Texas E85 Fuel Stations
Randolph AFB
Universal City, TX 78148
Private Facility
Sheppard Air Force Base
Wichita Falls, TX 76311
Private Facility
Willie's Place
I-35E, Exit 374
Carl's Corner, TX 76645
(254) 582-8433

Fort Bliss
Fort Bliss, TX 79906
Private Facility
Johnson Space Center
2101 NASA Parkway
Houston, TX 77058
Private Facility
CleanFUEL USA (Site 502)
4023 I-35 E
San Antonio, TX 78219

Pantex Plant (DOE)
Carson County, TX 79906
Private Facility
CleanFuel USA (Site 501)
601 University Drive
San Marcos, TX 78666


Last update April 01, 2007